With all the efforts going into Squiffy's interior, we didn't want to neglect the most important part of our van: the engine. We were going to be asking a lot of it come July, so we wanted to make sure that Squiffy was being propelled by an engine that was up to the challenge.
Despite being massively keen to take on the job of preparing Squiffy's engine for the expedition myself, my work schedule would be pulling me away from sunny Bedford for quite a bit of the Spring, so we felt that this was a job for the professionals…
So a quick call to Milotane in Bedford to ask them to take the engine out and remove the cylinder heads so that we could get a better idea of the work that we hoped wouldn't be needed.
Squiffy's engine bay (Type 2s have their engines at the back, of course) certainly looked a bit naked without it's usual occupant, but with the engine out, we could clearly see how the engine had coped with over 20 years of use.
Unfortunately, what we saw was not pretty. Both cylinder heads had been blowing (exhaust had been escaping where it shouldn't have been) and one of the pistons was suffering from the effects of something (probably a bolt) having fallen into one of the cylinders at some point in its history!
After consoling each other over a cup of tea, we decided that we needed to put some careful thought into our next move. So, trying hard to maintain her dignity, Squiffy meekly submitted to being towed back home, her engine resting in several oily pieces on her newly lino'd floor.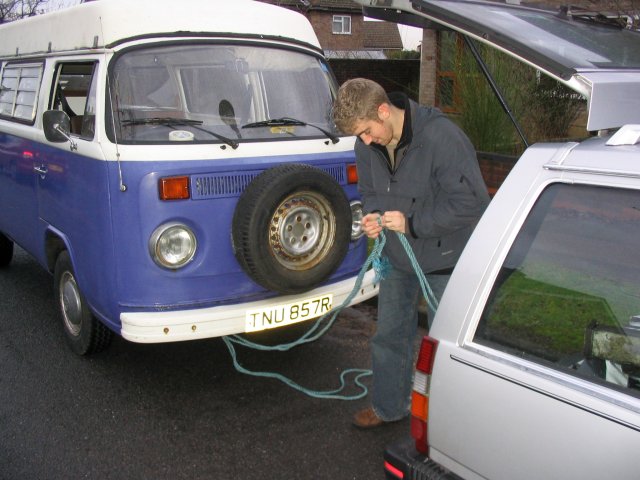 Hopefully, this is a scene that won't be repeated once we've set off for Sydney!