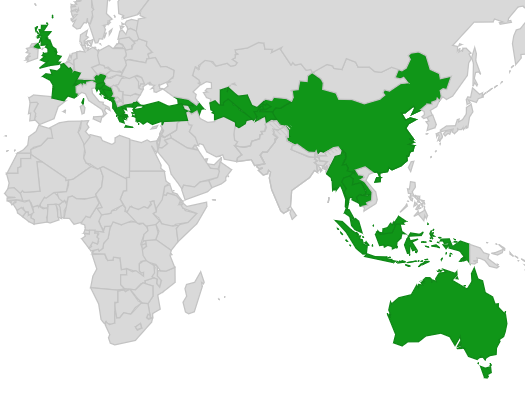 Leaving London in early March we intend to take about 6 months to reach Sydney. Our route takes us through Europe, right across the whole of Asia and down into Australia. Of course we may need to adapt if we encounter any unforeseen problems or a change in the political situation, but we'll be keeping Sydney in our sights!
Europe
Passing through Europe in the spring, our chosen route currently takes us south seeking warm weather through France, Italy, Slovenia, Croatia, Montenegro, Albania and Greece.
Asia
We will then move on into Turkey around the end of March, taking about a week to reach the Iranian border, stopping in Istanbul and Ankara. Upon entering Iran we will head for Tehran and then continue north, passing up through Central Asia: Turkmenistan, Uzbekistan, Kyrgyzstan, Kazakhstan.
Then China. Here we have a time constraint as we have to enter China on a pre-approved date and location, organized through an agency there. An extra buffer week should make sure that we have ample time to get there in case of any problems or delays earlier in the trip. This means crossing into China in early May. Our route through China has to be fixed and timetabled with the Chinese agency before we leave and cannot be easily changed.
After a month in China, we emerge through Vietnam, and begin to work our way down through South-eastern Asia taking in Laos, Cambodia, Thailand and Myanmar. Then it's onwards through Malaysia and into Singapore.
Crossing water for the first time we'll ferry into Indonesia via Sumatra were we'll island hop eastwards, working our way towards Timor-Leste. We expect that this will take us about 3 weeks. Once in Timor-Leste around the end of July we will say goodbye to our van while it is shipped to Darwin.
Australia
Crossing from Timor-Leste ourselves, either by boat or by air, we'll be there in Australia to meet Squiffy when she arrives. Reunited with our van we plan to spend 3-4 weeks travelling down the east coast of Australia. With 6 months of driving behind us we will finally complete our journey, arriving in Sydney in August 2020!