Andy

Andy Done first conceived the idea of London2Sydney while at university in 2001. After two unsuccessful attempts to get the project off the ground, in 2004 it was put on hiatus where it brewed in the back of his mind. In 2019 the opportunity to give the expedition another shot arose so Andy seized it with both hands.
In the interim, his career in software and data engineering has taken him from the UK to the United States and Germany. He's also travelled widely including Central America and North Africa.
With many years experience in driving and maintaining air-cooled VWs, Andy's going to be charged with the task of keeping us on the road. His other interests include yoga, all things Paleo, Alexander Technique and Greg The Bunny.
Alkesh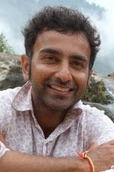 Alkesh Patel probably regrets the day he met Andy 10 years ago, but here we are. Alkesh's career in Business Intelligence has taken him from UK to India and Dubai, and his keen interest in travel all over the world including South America and South East Asia.
His concern for what might become of Andy if left alone and unsupervised on the road for 6 months led to his volunteering to join him. His other interests include male grooming, David Beckham, yoga and football.
---
London2Sydney Alumni
Nick

Friends since school days, Nick Habershon and Andy worked together on London2Sydney from 2003-2004. Nick was instrumental in everything to do with the first expedition attempts, and especially in Squiffy's first rebuild.
Nick still works for the computer game developers Sports Interactive. In exercising his linguistic abilities, he has lived in Germany for a year and travelled extensively throughout Europe. His other interests include guitar, piano and football.