This is my favourite part of the interior so far (and, in my opinion) the cleverest. We've got an old Devon sales brochure (circa late 70s) which depicts the two main Devon conversions – the Moonraker and Sundowner. I've thumbnailed a few up for you – check out the best 70s fashions!
The main one we were interested in though, is how Devon fitted the oven to the Sundowner conversion. Most vans were happy with a static oven, but the Devon Sundowner took it one step further. Have a look at the following thumbnail – you'll notice that the oven is on a pivot and can swing through 90 degrees to face through the van door. This enables the happy campers to cook outside (is barbecue a better word?) without having to crouch sweating over the Scallops au Gratin (or whatever other culinary delights you might be planning):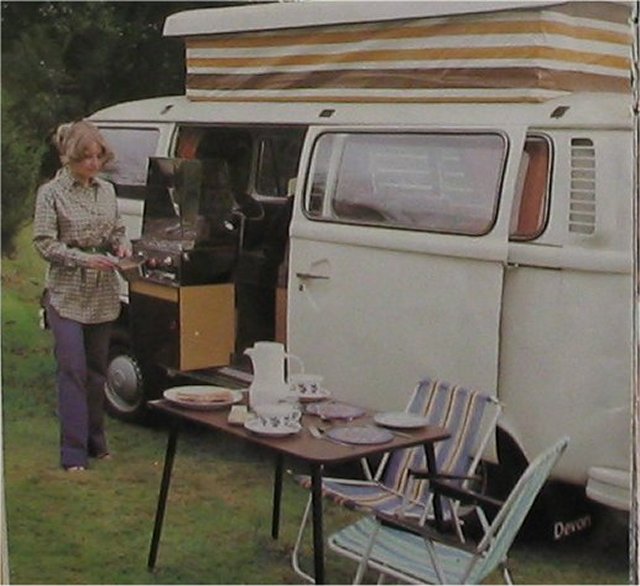 This, in our opinion, is an inspired idea and one we wanted to recreate in Squiffy. Not having the original pivot hinge or reinforced oven cupboard, we set about making our own. Here are the pictures of my work today which, in truth, I'm extremely proud of!! :o) Considering one of my first jobs was drilling right through the van's chassis, it could have all gone horribly wrong….
Preparations – I used a fence bolt to act as the pivot. So that the wood of the cupboard wouldn't get damaged through constant use, I used a half-inch long washer off my old bike (!) and reinforced the corners with zinc-plating:
The fence bolt goes straight through the van floor and is attached by a nut underneath the van. The bolt is static but further lubricated washers between the floor and the oven cupboard allow the oven to swing easily through 90 degrees. If you're wondering why there's only a bit of carpet under the oven, it's because we plan to cover the rest of the floor in a removable carpet (secured by strong Velcro) which will allow us to deal with any major spillages (I hate to think) easily.
The finished oven is secured using a draw-bolt which secures the oven either in its resting place or in its 'outside mode'. Note the cool 'chimney' on the oven – stops smoke from the Gratin going back into the van!
Coupled with the new box seat we added yesterday, the interior now looks like this from the back of the van:
It's getting there! I'll have to do a few Before & After shots towards the end of January. :o)