…and guess what, yep, we've recovered from our hangovers and are working on the van!
The 'rock n roll' bed, which (for the uninitiated) is a two-seater chair which folds out into a double bed, is going to be the centre-piece of our interior and so it was important to get it in place. Here's Andy demonstrating the bed bit…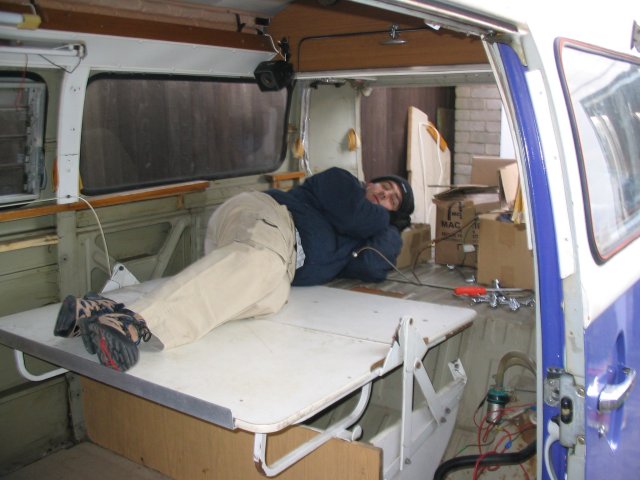 Fitting one of these can be a tricky job (see http://www.type2.co.uk/bed.htm for details) and involves bolting the chair through the van chassis.
If anyone wants advice on fitting one of these (be aware that the petrol tank is directly behind the vertical panel) or indeed any aspect of fitting a VW interiors, we're more than willing to offer some words of encouragement (just contact us!). We found it quite daunting to start with, so we know what you might be going through!!
Check out the pictures of the action!
Andy had to get under the van and secure the bolt for the bed on the underside of the wheel arch. Nice…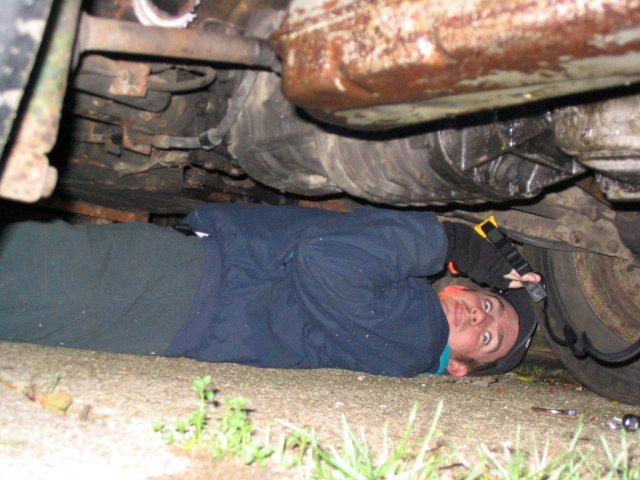 Then it was just a matter of adding the final fittings. Notice how the old seatbelts have now come in handy? That chair is seriously comfy by the way…
And a special mention to Clare, Nick's sister, who made us a fantastic fry-up – it's hungry work!!