An early start saw us at L.A. Performance once again to begin the final preparations before Squiffy's engine would be ready to be reunited with Squiffy herself.
Nick and I set to work sorting through the jigsaw of tinware pieces (exchanging many quizzical glances and shrugs–it's quite an exercise in spatial reasoning!). Meanwhile, Lee put the final touches to the beautifully prepared long block (the heart of the engine).
Only one thing stood between us and Squiffy with a purring engine at the end of the day, and that was… a badly fitting oil pump! Unfortunately, despite hours of grinding, hammering, blow-torching and cut fingers, nothing would make our oil pump fit properly to the engine, until we eventually had to swap the part out for another which, mercifully, fitted perfectly.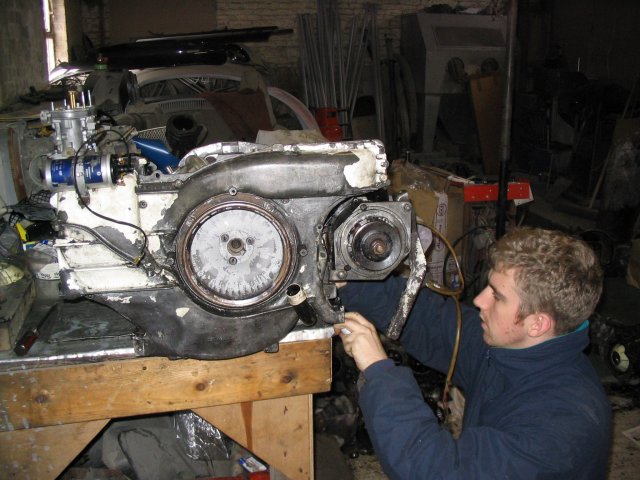 It was starting to look like we wouldn't be able to reach our goal of having the engine back in the van and running by the end of the day, but after a quick lunch, things began to pick up and progress was rapid. On went the rest of the tinware, the engine's fan and the very business-like carburettors which Lee then carefully set-up.
Despite valiant efforts, the absence of a few of the key components of any good engine (erm spark-plugs being one!) meant that we had to call it a day for today. But we're not beat!
Will Lee and the London2Sydney team be able to get the engine back in the van before Andy's 4pm flight back to the US…? The challenge begins 0900 hours, L.A. Performance's workshop. Check back tomorrow to find out!